August 30, 2009

The Day I Played The 1950's Gibson Moderne.
The Rarest Gibson Guitar In The World.

By Bill Cherry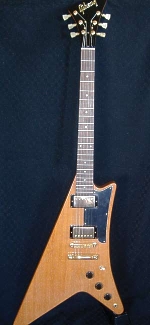 Pictured Above is the Gibson Moderne 1982 reissue model guitar

This is my best recollection of the events leading to me playing a real, 1950's era, Gibson Moderne prototype guitar. The Moderne is generally understood by guitar collectors to be the rarest Gibson model ever made. Today, the original prototype(s) are considered lost, or questioned to have been made in the first place. I am 60 years old now and want to make a true account of when I actually played one.

I began taking guitar lessons at the age of 12 on an Air Force Base in Michigan in 1961. When my father retired from the Air Force in 1963, the family moved to North Miami, Florida. I was enrolled in North Miami Jr. High School in the last of the eighth (8th) grade in March, 1963.

I continued taking guitar lessons at a local music store called North Miami Music. It was located a half block South of N.E. 125th Street in an older building directly facing N.E. 6th Avenue in North Miami, Florida. I would walk from North Miami Jr. High School to the music store for lessons, or my father would drop me off and pick me up after the lessons. The music store was very small and about the size of a small pawn shop. As you walked in, you noticed the guitars, saxophones and other instruments hanging on the wall to the left behind the single counter. Walking straight ahead, the teaching rooms were along the right side and towards the rear of the long and not very wide store. The store owner was Ben Davis. He was a drummer from the 1940's big band era who had retired to Florida and opened a music store. His daughter, who also was a drummer, worked in the store as did her new husband. Now, Ben was a real character. He was a generous man who loved music and was very friendly and personable. He carried those traits over to the operation of his business. He also thought of himself as a "wheeler-dealer" much to the disdain of his daughter. He once told me that everything he had was for sale except for his wife! Occasionally, he would play on Miami Beach with some of the orchestras in the hotels.

One day, in the summer of 1963 (or in could have been later in the year), I was in the store waiting for my guitar instructor to arrive, when Ben (who was always trying to 'drum up' business) said; "Hey Bill look at this!". He knew I didn't own an electric guitar at that time. I was still learning the Mel Bay method on a cheap acoustic, so I knew almost nothing about electric guitars. As he pulled out three (3) guitar cases from a stack on the right side of the store, he went on to say that Gibson Guitars needed to reduce their inventory. They needed money and were clearing out their warehouse and selling every guitar they could to dealers. He said he knew someone in a high position there and had bought a group of guitars they had found lying around the warehouse. He said he got the instruments to sell to the "kids".

The first guitar he showed me was already sold he said. It was a reverse body with a drooping headstock (Explorer). Being seated, I rested the Explorer on my leg and thought that is was interesting, but not very comfortable. The second guitar that he removed from another tweed case was shaped like an arrow (Flying V). It had a special leg rest that one inserted into the bottom side of the guitar in order to play it while sitting. Now, you must remember that these two guitar models (Explorer and Flying V) originally did not sell well at all. The other model (the Moderne) never went into production, until it was reissued in 1982. Gibson was trying to compete with Fender for the youth market and had come up with these wild designs in the late 1950's. Ben did not sell Fender instruments at North Miami Music, but was always getting requests for them as 'surf music' was very popular at the time.

As I opened the third, tweed, Gibson guitar case Ben had brought out for me to see, I noticed that it did not have any additional included material (i.e., printed instructions, warranty, free guitar strap, etc.) inside. In addition, the case seemed not fitted inside to the guitar. The instrument was just lying there in it. The guitar was an ugly (I thought at the time), medium light brown, wood grained, two pickup instrument. I immediately noticed the enormous, bulbous headstock and the strange (to me) upside-down body. It had vertical pins on the headstock, which the strings wrapped around before entering the tuning keys. Ben said he didn't know what model it was. As I lifted the guitar up out of the case, I at once noticed how unbalanced the instrument was. The guitar was very neck heavy. Unlike the Flying V, this guitar had no provision for a plug-in, sitting, leg rest. I could not balance it on my thigh, because trying to do so would cause the neck to nosedive. I had to hold up the neck with my left hand as I played it. If anyone wonders why Gibson never put this guitar (Moderne) into production, one major reason could have been the balance problem. Ben said to me that he could "give me a real good deal on this guitar". I asked him the price and he said; "$250.". He also said he would let me pay him in installments. That was the type of business person he was. Now, I was 14 years old, going into the ninth grade, and not yet even in my first band. I did not have the $250., so I had to decline his offer. A short time later, I bought my first electric guitar, a $50.00, Japanese, Kent brand from Ben. In early 1965, I would get my first, new, pro guitar. It was a 1964 Gibson ES335 Custom with Bigsby tailpiece. At least I could balance the ES335 on my leg!

I do not know who Ben Davis eventually sold that Gibson Moderne to at North Miami Music in 1963, but I do know this: It exists. Years later, as I read about the missing prototype(s), I think back to that day at the music store and me having played the legendary Moderne.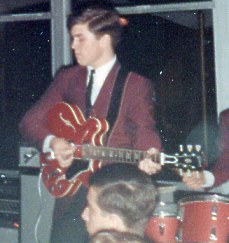 Bill Cherry playing a Gibson ES335 in 1966 with his
band at the Doral Hotel in Miami Beach, Florida.
THE END




Copyright © 2009 William C. Cherry. All rights reserved.
Email: bcherry@computerweb.com